Bluefin
Fishing and regular trips
Private Charters
Our company offers private charters for families or friends aboard the BLUEFIN, a small and cosy boat. Duration adapts to the needs of our customers:
2 Hours: from 11-30 to 13-30, from 13-45 a 15-45, from 16-00 to 18-00
3 Hours: from 11-30 to 14-30, from 15-00 to 18-00
4 Hours: from 10-30 to 14-30, from 15-00 to 19-00
5 Hours: from 12-00 to 17-00
During the charter, we will satisfy all our customers' wishes: some fishing with our equipment, a visit to the oceanic and coastal hotspots or a break at a small and beautiful cove, eating on board, swimming and snorkeling.
Price includes soft drinks, water and beer with a snack for each client or for an extra fee, our company can offer catering and drinks (of low alcoholic volume) to enjoy your experience.
Travel with us and do not miss this pleasure!
Book Now
Bluefin excursion 2h 30min
Our BLUEFIN boat offers regular oceanic trips daily to enjoy beautiful coastal scenery and the marine wildlife. With the possibility of fishing and swimming in nature's quiet and stunning locations. A choice of soft drinks and snacks is offered complementary on board.
Tour Schedule:
From 10-30 to 13-00, from 13-15 to 15-45, from 16-00 to 18-30
Duration: 2 hours and 30 minutes
Travel with us and do not miss this pleasure!
Eden Fishing 3h 30min
Excursions in groups or individual tours for locating and fishing marine species. Fishing methods: trolling, tossing, bottom-fishing, hooking or with rods (from the boat). Depending on the season, you may catch marlins, tunas, perch, barracudas, seabreams, rays, sharks and others. Our clients will have modern fishing equipment, rods, and spinnings at their disposal, as well as hooks, baits and lures. The fishing activity will be carried out under the command of an experienced captain. Guests will have free soft drinks, beer, water and sandwiches on board. Catering with wine can be ordered on board for an additional fee.
Daily fishing hours
From 9-00 to 12-30 and from 14-00 to 17-30
Book Now
10% Online Discount​
Pricing:

2h 30min 55€ 49.50€ per person

3h 30min 75€ 67.50€ per person
About Bluefin (Eden Fishing Yatch)
On 2017 we introduced BLUEFIN, an exclusive 7 passengers boat specializing in the following touristic activities:
Fantastic private trips with your family or a group of friends up to seven people for two, three, four or five hours. Visiting all the beauty of Tenerife's coast and ocean, the wildlife and vegetation, with stops in cosy bays to take a swim and enjoy this leisurely experience, with the possibility of eating on board.
Regular daily excursions of two hours for up to seven people, with a quick visit to the sea's hotspots and with the possibility of fishing and stopping at a beautiful cove for snorkeling with tubes and glasses.
Exciting deep sea fishing in the search for local marine species and with the greatest of likelihood to succeed. The boat's professional fishing equipment will be at your disposal.
If you like comfort, privacy and travelling in small groups, the BLUEFIN boat is the right one for you! Contact us! We will be happy to organise your excursion! Our office is at the epicentre of the tourist zone, in the south of Tenerife Island, in Puerto Colon, Adeje.
Characteristics of the BLUEFIN FISHING Boat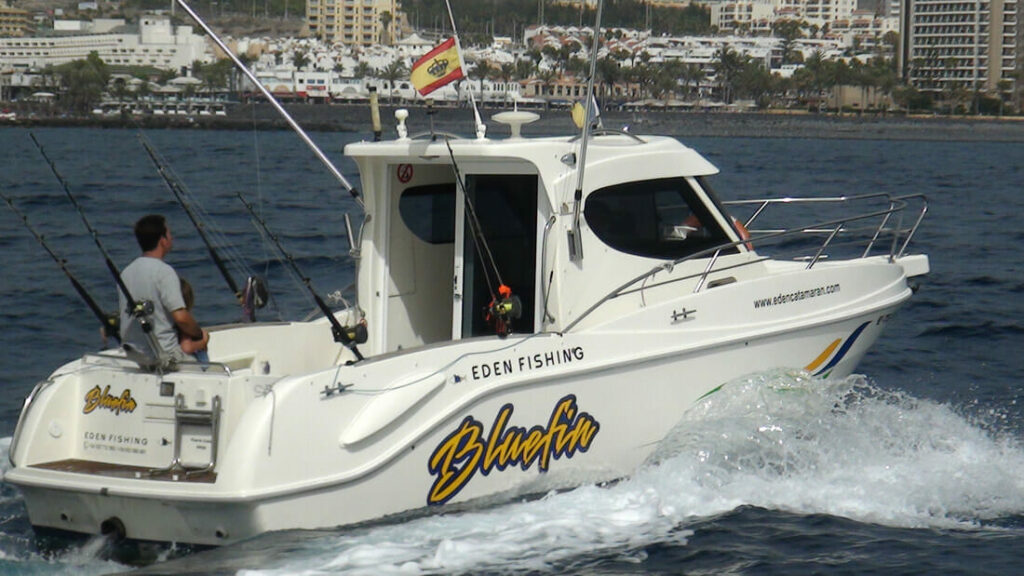 Builder: ASTROMAR ASTILLEROS, S.A.
Length: 7.37 m
Width: 2.63 m
Maximum load: 1100 kg
Engine: Class Р.Р.I.B.
Name: YANMAR-4LHA-DTP
Power: 147 KW/199.92 CV
Flag: Spain
Fishing equipment
Trolling Equipment: 5 large rods
Line bobbins for spinnings: 2 (80 lbs for Marlin), 2 (50 lbs for Tuna), 2 (50 lbs for Bonito)
Bottom fishing equipment: 6 rods
Marlin fishing gear: 9 units
Marlin fishing gear: 4 units (different model)
Bonito fishing gear: 3 units
Bonito fishing gear: 9 units (different model)
Tuna fishing gear: 5 units
Hook for trolling the fishing: 1 Large
Hook for trolling the fishing: 1 Medium
Hook for trolling the fishing: 1 Small
Large rods for trolling (beam): 2 units
Round holes in the boat for the installation of rods and spinnings: 6 units
Fishing belts: 2 units